GK Dealing With Crosses | Tech (34-P1)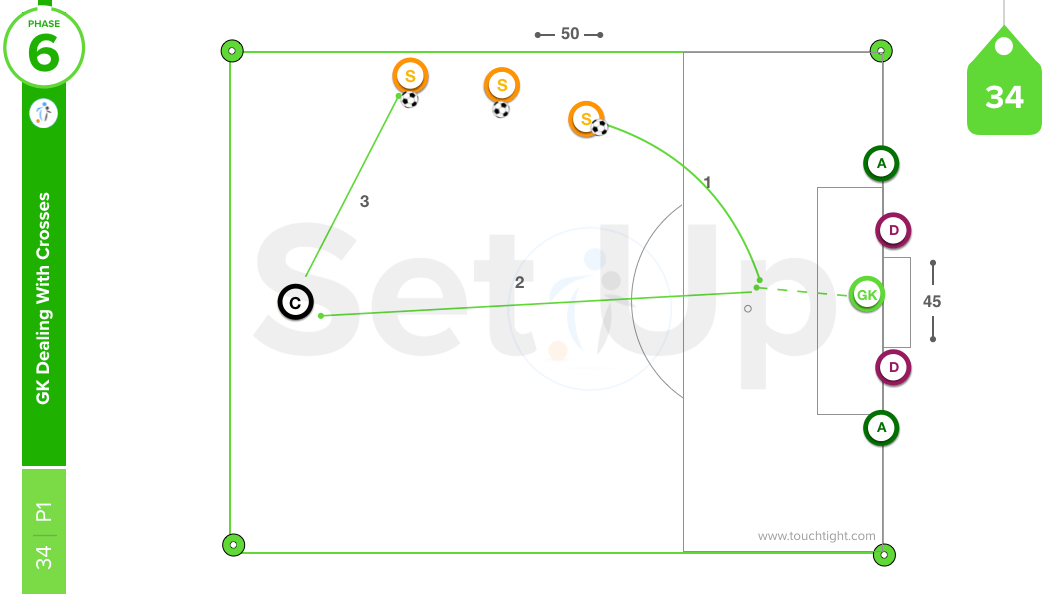 Set Up
8 players (incl. GK) arranged 2 Attackers, 2 Defenders, plus 3 Servers (right & left foot mix if possible). Quarter pitch incorporating full width & penalty area with appropriate size goal, as illustrated. Discs to mark-off far post area, supply of balls by S's. Main priority is to defend goal and collect crosses effectively.
Practice starts with GK taking realistic start position in goal & S's cross balls in rotation to near & far post areas. S's provide a variety of in-swinging & out-swinging crosses. Assess flight of ball & make decision to collect or allow D's to deal with it.
Key Coaching Questions
How can you read the flight of the ball for crosses early?
How quickly can you adjust your feet to the flight of the ball?
How can you be confident when you come to collect crosses, especially when attackers and defenders introduced?
Focus on speed of distribution when collecting?
Technical Detail
Confidence on collecting crosses and in getting above players.
Early reading of crosses through quick thinking adjusting to the flight of the ball.
Awareness of coach or receiver when distributing ball.
Communicate effectively with teammates, breeding confidence in defenders as well.
Prepare quickly for next delivery and refocus on previous steps.